SOME CODES WEREN'T MEANT TO BE BROKEN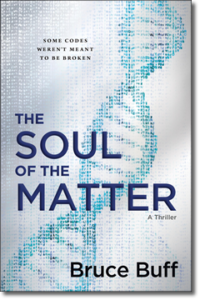 Dan Lawson, a former government cyber-intelligence analyst, is surprised to be contacted by his estranged friend Stephen Bishop, a renowned geneticist. Stephen says that he's discovered amazing information within DNA, including evidence of a creator, and needs Dan's help to protect his findings. Dan knows there is no such thing as God and wonders whether he is being manipulated, or if the recent illness of Stephen's only child, Ava, has caused his childhood friend to fall back on religion for answers to questions best left to science. Spurred by his desire for proof that life has meaning, however, Dan puts aside his doubts and agrees to help.
But when an experiment goes terribly awry, Dan realizes he must get to the bottom of Stephen's discoveries. With the help of Trish Alighieri, a pediatric oncologist trying to save Ava's life, Dan desperately searches for answers. As Dan gets closer to finding out what secrets Stephen discovered in DNA—and what those discoveries could mean for humanity—Dan also discovers that he and Trish are not the only ones trying to get their hands on Stephen's work. As they crisscross the country trying to break the codes that will let them access Stephens's work, they are tailed by dangerous powers who will stop at nothing to unlock the secrets of life. It's a race against time to try to answer the biggest questions man has ever faced: Who are we? How did we get here? And can the human soul survive science's conquest of nature?
Order today!
---
---
Op-Eds by Bruce Buff:
This Halloween, Remember That Souls Make Humans Exceptional
National Review
Artificial Intelligence will lead to the human soul, not destroy it
Fox News
Adolescents in Crisis: Why We Need to Recover Religion
National Review
---
Reviews for THE SOUL OF THE MATTER:
"Readers who enjoy ruminating on matters of faith and science while also engaging in a thrilling plot filled with deception and international intrigue will flock to Buff's novel."
~Publisher's Weekly
"Full of unexpected twists and turns, The Soul of the Matter will leave readers wondering how this fast-paced thriller marked by the compelling combination of science, suspense, redemption, and faith could possibly be Buff's debut novel."
~Family Fiction
From B&N Reads: September's Best New Thrillers
by Jeff Somers/ September 2, 2016
"Although we're frequently distracted from them, most of us struggle with the basic questions of existence—the how and the why. Buff pivots from those fundamental questions in his urgent new book, in which a renowned genetic scientist with a dying daughter contacts an old friend, former government cyber-intelligence analyst Dan Lawson, with the remarkable news that he's discovered something incredible in human DNA—including evidence, he says, of a creator. Lawson, struggling with faith and his fears that his old friend's worry for his daughter has clouded his judgment, agrees to help, and what he witnesses soon spurs him to seek answers—answers he's not sure he wants, but can't turn away from. This is a thriller that will have you thinking and questioning everything long after you read the last page."
"Daring and insightful, Bruce Buff's The Soul of the Matter races deftly across the latest battlefield between faith and reason—the secrets of creation itself. This gutsy debut thriller posits there is more to DNA than chemistry and some codes were not meant to be broken."
~Tom Grace, international bestselling author of The Secret Cardinal
"A riveting read that thrills with breakneck pacing while raising fundamental questions about what it means to be human. Thought provoking on many levels, Bruce Buff's stellar debut will open your mind to incredible possibilities. Fans of Michael Crichton and Dan Brown are sure to savor this novel."
~Daniel Palmer, critically-acclaimed author of Helpless & Forgive Me
"A creative, sophisticated, and thought provoking thriller… Bruce Buff has done a fabulous job exploring today's tense no man's land between science and religion, asking and answering exciting questions about what the universe and mankind are all about and why we're here."
~Joe Buff, author of Crush Depth and Seas of Crisis